INTERMEDIATE CAR HIRE »
Toronto gallery
Intermediate class cars offer full-car size comfort and great value for family travelers. A car from this group offers a roomy luggage compartment and a full-size seat for five passengers. The most popular models in Bulgaria and Europe since year 2000 are Ford Focus sedan or estate, Renault Megane sedan and Scenic, Opel Vectra and Astra wagon, Chevrolet Aveo and Lacetti, Toyota Corolla and Avensis, Peugeot 406 and 307 SW. The Intermediate cars has been slightly degrading their popularity in the recent years being replaced by either compact cars with expanded size or by a family minivans like Opel Zafira offering more room and optional seats for larger families.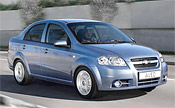 AUTOMATIC CAR HIRE »
Toronto gallery
Automatic car hire is a preferred choice for city driving not only in Bulgaria, but all-over the the world. Cars with automatic transmission have many advantages - they are easy and more relaxing to drive and allow driver to be more focused on the road, driver's reaction time in an emergency situations is shorter, the automatic transmission spares car's life especially in heavy city traffic. We offer different category automatic cars for hire - from the small new 2008 Opel Corsa  to large SUV's.