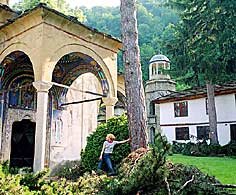 Batoshevo Monastery
The Monastery of Batoshevo was founded in the 13th century under the reign of King Mikhail Asen. It is located in the hearth of Balkan Range mountain, near the village of Batoshevo. The monastery had been burned to ashes during the Ottoman slavery. Years of abandonment had followed. In 1831 its restoration had began and new wings with monastic cells had been built up. However, in 1876 the monastery has been burned down again having been a constant hiding place of one of the leaders of the Bulgarian organized revolutionary activity - Angel Kanchev. After the liberation the monastery has been fully restored.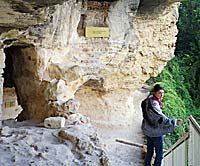 Aladja Monastery
This is one of the few preserved and accessible rock monasteries in Bulgaria, dating from the time of the Second Bulgarian Kingdom (12th -14th century) and it was most likely inhabited until the 18th century. Monastic cells and a small church have been dug into a sheer rock, 14 km from the city of Varna and close to the Black Sea resort of Golden Sands. Differently colored 13th-14th century frescoes are still discernible on its walls, but only few of them are preserved. The church has a wood-carved iconostasis.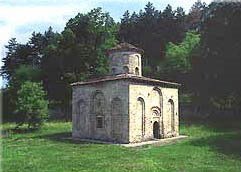 Zemen Monastery
This monastery is to be found amidst the picturesque Zemen Gorge on the bank of Strouma River about two kilometers south-west of the town of Zemen. The oldest building in the monastery is its church, built of shapely cut tufa blocks. It is a cruciform structure almost resembling a giant cube with a central cupola that stands on four huge pillars of solid masonry; arcades connect them with the exterior walls. According to various sources this temple was built in the 11th century.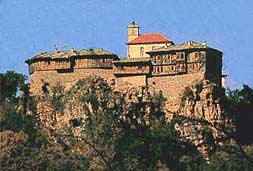 Glojen Monastery
The Monastery of Glojen is situated above Glozhene village, 12 km north-east of the roadside complex "Pravets". It is founded in 1224 by the Russian knyaz Georgiy Glozh. The small church, dating back to 15th - 16th century, has been destroyed by the earthquake in 1913, and later a new one has been built up. Medieval and Renaissance icons, as well as religious books have been preserved to the present day. The monastery had been a hideout of the famous Bulgarian revolutionist Vasil Levski.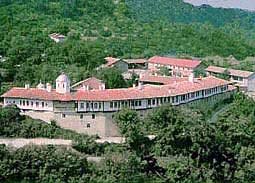 Kapinovo Monastery
The Monastery of Kapinovo "Sveti Nikola" is to be found 6 km southwest of village of Kapinovo ( 20 km southeast of Veliko Turnovo). It is founded in 1272 by tsar Konstantin Asen Tih. The church is renewed in 1835. Outside in the open narthex one can see the work of Yoan Popovich "Day of Judgement" - one of the biggest mural-painted compositions in Bulgaria. The monastery wings, built anew in 1856, have wide balconies facing the yard and smooth stone walls facing Veselina river. The woodcarvings of the iconostasis and the altar doors are of high artistic value.