Motor-hang gliding / Microlights
There are two kinds of powered hang gliders. One that takes off and lands on wheels - classified as microlights and the other is the foot-launched version. Both are powered by a small 2-stroke engine. The motor-hang gliding, offers the pilot the ability to take off from a relatively small, flat field and climb away to find the lifting thermals that all glider pilots rely on to make cross-country flights.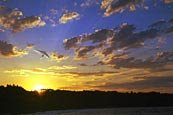 These devices are heavier and more cumbersome compared to the paramotoring, but they offer something extra for the keen hang glider pilot. Like the paramotor, the engine can be detached and the glider used to soar without power; this flexibility is in itself an attraction, as is the leisurely flying speed.
Although their main appeal at the present time is undoubtedly to the already experienced hang glider buff, interest in these machines is growing rapidly, particularly in areas where there are no hills. To learn to fly one you'll need to first learn to fly a hang glider, and the same degree of background knowledge of airlaw, flight theory, meteorology, etc.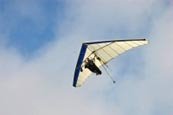 It normally takes between five to eight flying days to learn how to fly on a motor-hang glider. Your instructor will show you how to rig and inspect the glider before you have your first short flight. First flights in tow training are conducted using a very gentle winch pull, keeping you close to the ground. For the first day or two the glider will be restrained by tether ropes until you become adept at steering and controlling airspeed by moving your weight. You'll then graduate to higher and longer flights, and when the weather's not so good retire to the classroom to learn basic flight theory, meteorology and air law.
You can choose your tour duration, training and flight program and places to fly, according to your budget, time availability and skills. Everything on your paragliding tour can be customized.
If you feel like one of these people keen to to discover new horizons, then you are at the right place. Please, feel free to contact us for any kind of information and arrangements:
, or Call: + 359 885 370 298
Discover Bulgaria - the best kept secret of the Balkans !