Horseback riding in Bulgaria is a unique experience and offers a great satisfaction, no matter if you are a beginner or an experienced rider. Five Bulgarian mountains - Rila mountains, Rhodope mountains, Pirin mountains, Strandja mountains and the Balkan Range offer diverse relief and great itineraries for horse riding. You will ride in the heart of the gorgeous Bulgarian nature - an abundant wildlife, awesome river gorges and waterfalls, vast forests, endless lush pastures.

Horseback riding in Pirin mountains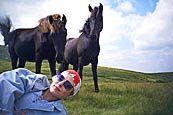 Pirin mountains, the wildest, most picturesque range in Bulgaria, are situated in the southwest part of the country in a rather extended shape to the northwest and southeast between the rivers Struma and Mesta. Pirin has acquired an Alpine relief - rocky marble or granite peaks and cliffs, deep cirques, well shaped glacier valleys and numerous lakes. However, because of the well-expressed Mediterranean influence through the valleys of the Struma and Mesta rivers, it is the mountain with the greatest number of sunny days throughout the year. Pure water tarns and rare wildflowers abound in the highland valleys, and the slopes are a tourist's delight with white pine and fir clumps, and a large number of Bulgarian and Balkan endemites and relicts.


See itinerary

Horseback riding in Rhodope mountains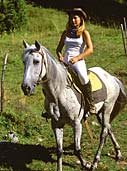 Rhodope mountains, are one of the oldest mountains in Bulgaria - the land where panpipes, Orpheus and the Orphic Cult originated, a region rich in gems and ores, mild oval forms and rounded wooded peaks, picturesque villages and hospitable people. Very interesting are the karst areas with their deep river gorges, large caves and specific sculptured forms. The best conifer woods in Bulgaria can be found here, as well as 15 natural reserves, some of which protected under UNESCO.


See itinerary

Horseback riding in Strandja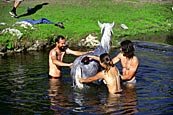 Strandja mountains are situated in the southeast part of the country. Strandja is covered with beautiful old oak and beech trees. The region is not very populated except the east part which touches the sea. Some unique Bulgarian traditions and folklore are preserved in the villages in Strandja mountains. The well known old Bulgarian ritual of "Nestinari" originates in this region - barefooted dancers performing on burning embers. Places like Bulgare village have a unique atmosphere and still preserve the old Bulgarian folklore traditions. Strandja is guarding unique species of Bulgarian flora and fauna definitely worth to be seen and explored. Its proximity to the seaside makes it an ideal getaway for horseback riding - deep woods are refreshing experience after the hot days on the beach.


See itinerary
Discover Bulgaria - the best kept secret of the Balkans !
Please, feel free to contact us for information and tour arrangements:
, or Call: + 359 885 370 298 / 24 hours