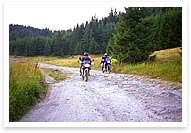 We do design Custom motorcycle tours and Active vacations for individuals, groups, clubs and organizations. You can find on our web site tons of curious information about Bulgarian natural phenomena, people, history, culture, treasures, monasteries, etc. Check the rubric Why Bulgaria and if you are interested in a specific topic we will be glad to provide you with additional information and design a custom tour for you on that basis. All motorcycle tours presented on Motoroads can be adjusted according to your preferences and flight schedule.
Conquer Bulgarian mountain tops
8 days off road motorcycle expedition designed to conquer some of the highest Bulgarian mountain peaks. A real challenge for real adventurers. Enjoy scenic mountain roads that will raise your adrenalin to the extreme. Those taking part should be capable of riding on rough, steep and gravel roads and should be geared for adventure touring. Ask for details here.
Festival of Roses tour
This is a tour that will make you a witness of the lovely Festival of Roses celebrated in the Rose Valley near the town of Kazanlak on the first weekend of June every year. The festival is a pageant of beauty in the unique Rose Valley. In the run-up of the event, a Queen Rose beauty contest is held in several rounds. Artists, actors, circus performers, writers and singers flock to Kazanluk at the start of June. In the 1270, during the crusades, Count de Gruye brought the Damascus rose from Syria to the valley of Kazanlak where conditions proved excellent. Experts claim that Bulgarian roses and rose oil owe their unique properties to the local climate and the generous soil. The temperatures in February, when roses bud, are ideal. The blossoms are picked in May and June, when high humidity is very important. Today the Bulgarian oleaginous rose yields 70 percent of the world's attar of roses used by every perfume company as an essential component of its products. The participants in this tour will also have the opportunity to explore a number of ancient Thracian Tombs and sanctuaries located in the Rose Valley of Kazanlak. For information and questions about this tour click here.