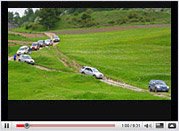 The spectacular Panoramic 4x4 JEEP Tour stretches in three Bulgarian mountains - Rila, Pirin, and Rhopdope mountains. Enjoy outstanding panoramic back roads which will reveal magnificent sceneries from the Bulgarian nature - Belmeken Lake, Dospat lake, Devil's Throat, Yagodina cave, Trigrad gorge, the Wonder Bridges • Walk on the streets of the Old Plovdiv most of which is designated as an Architectural-Historical Reserve, remarkable with its cobbled, hilly streets, churches and colourful National Revival-style houses. Visit one of the best Bulgarian monasteries - Bachkovo • Ride along numerous gorgeous lakes situated in the most attractive part of Rila and Rhodope mountains - Iskar reservoir, Belmeken Lake, Dospat lake • Relax in comfortable SPA hotels in Borovets, Devin and Velingrad.

Meeting you at the airport. Transfer to your hotel and a welcome dinner.


Sofia - Borovets. Half a day ATV Biking tour/Snowmobiling in Borovets (optional).


Borovets - Belmeken - Velingrad. Accommodation in a SPA hotel.


Velingrad - Dospat - Devin. Accommodation in a SPA hotel.


Devin - Yagodina cave - Trigrad gorge. Outdoor activities - caving , horse riding, (optional).


Trigrad - Wonder Bridges - Bachkovo monastery - Plovdiv


Plovdiv - Sofia. Transfer to the airport.