However, because of the well-expressed Mediterranean influence through the valleys of the Struma and Mesta rivers, it is the mountain with the greatest number of sunny days throughout the year and annual average temperature in the area of Vihren chalet (2000m) of -3.7C. Northern Pirin is home of the highest peak, Vihren (2914m), of 60 others above 2500m, and of 140-150 glacial lakes.It is also the place where one can find most of the region's ski resorts and hiking centers, as well as 12 chalets and 4 huts which are open for mountaineers the year-round. Because of its unique nature, in 1983 UNESCO decided to include the Pirin National Park in the list of the world's cultural and natural heritage.


See pictures from Pirin mountains.
Itinerary: The suggested itinerary below can be adjusted - shortened, extended or modified according to your plans, skills or flight schedule.
If you feel tired on your hiking tour, a day or two of your schedule can be replaced on site with visits to places of interest, cultural and historical sites.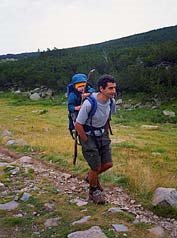 Day1: Transfer to the town of Bansko and if time allows, a short hike along Bunderitsa river above Bansko
Day2: Bansko - Vihren hut - Mt Vihren - Kazana - Baikusheva Mura - Bunderitsa hut - Bansko
Day3: Dobrinishte - Bezbog hut - Bezbog lake - Ribni lakes - Valiavishki lakes - Bezbog hut - Bansko
Day4: Bansko - Vihren hut - Todorini Eyes lakes - Gorno lake - Ribno lake - Demianitsa hut - Bansko
Day5: Visit places of interest. Transfer: Bansko - Sofia Airport

Tour dates: 5 days/4 nights scheduled at your convenience from May to October
Tour quota: Minimum 2 hikers
Hiking duration: 5 - 7 hours per day
Accommodations: 3-star hotels and authentic Rhodope houses in Bansko
Food arrangements: All breakfasts are included in the tour package. Lunch and dinner can be arranged upon request. All meals include traditional Bulgarian food, which is not much different from the European cuisine. All lunch meals if ordered are "to go".
A competent guide /driver
Transfer Sofia airport - Bansko - Sofia airport
All necessary transfers to the hiking start-points
All fuel expenses
4 night stays in three-star hotels in Bansko
4 breakfasts
Detailed route map of Pirin mountains
Prices: Two adults: 825 EURO total tour price
(share double room)
Family of 2 adults + 2 children under 10 years old: 980 EURO total package price
(share an apartment or three bedroom with an extra bed)
Family/Group of 3 adults: 980 EURO total package price


(share an apartment or three bedroom with an extra bed)
Group 4-8 adults: 390 EURO per person
(share double room)
Discount specials: Participants taking part in two hiking tours (Example: Pirin and Rila mountains) in one calendar year are eligible for 10% discount on each tour price.
Also check: Hiking in Rhodope mountains, Hiking in Rila Mountains, Hiking in Balkan Range
Contact us for information and arrangements for your hiking tour:
, or Call: + 359 885 370 298 / 24 hours