Tour starts in Sofia. Meeting at the airport. Transfer to your hotel and a welcome dinner.



Sofia - Starossel tomb - a recent phenomenal discovery in the summer of year 2000, dated back from the 4th-5th century BC. The uncovered two-chamber grave is approached by monumental stairs and a corridor and surrounded by a wall made out of some 4000 stone blocks. In the Starossel tomb archeologists have found a magnificent trove of relics, including a large gold funerary wreath, other gold jewelry, bronze shields, helmets and swords, and two sets of silver decorations for horses. After the visit departure for Koprivshtitsa.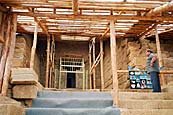 Koprivshtitsa - Kosmatka tombs, Shipka Tombs, Kazanlak tomb - one of the most famous monuments of Thracian culture of the early 3rd century BC, included in the World Register of Historical Sites of UNESCO for its extraordinary art gallery. The scenes of funeral processions , musicians, Thracian rulers horses and other depictions are all very interesting. After the visit we will be heading to Veliko Tarnovo. On our way you will have lunch at the highest point of Shipka pass, tasting the local specialty - the delicious Buffalo milk and then continuing to the town of Veliko Tarnovo.


Veliko Tarnovo - Razgrad - Sveshtary tomb - arguably the finest Thracian tomb yet discovered in Bulgaria, located 7 km from the town of Isperih. Uncovered during excavations of a sepulchral mound it dates back to the first half of the 3rd century BC. The funeral rites, the building technique, the architectural design and the rich decoration, distinguished for Hellenistic models, provide evidence that a Thracian ruler has been buried there. From the Sveshtary tomb you will be going to the city of Russe and spending the night there.


On the last day of the tour, we'll be going back to Sofia with a stop in the city of Pleven for lunch in Kailaka city park.


Sightseeing of Sofia and transfer to the airport.

* Prices shown are per passenger and a double room occupancy. Single room supplement is extra. Children 2-12 years old accommodated on an extra bed pay 1/2 of the regular tour price. The Self-guided tour includes: car rent and full insurance, hotel reservations, maps and detailed itinerary description, information for places of interest. No minimum passengers required on a Self-guided tour.